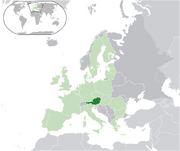 5500–4500 BC
Edit
Home to the Linear Pottery culture
7th century

Carantania, which covered much of eastern and central Austrian territory.


map needed

745

Carantania lost its independence to Bavaria.


map needed

1914-1918

Austro-Hungarian invaded of Serbia starting World War I
1918-1919

WWI ended and the Austro-Hungarian collapsed. The Slovenes declared their independence from Austria and joined the State of Slovenes, Croats and Serbs. Hungarian government terminated the union with Austria, officially dissolving the Austro-Hungarian state. German- and Hungarian-speaking territor broke off from Austria to form Republic of German Austria.


map needed

1919–1934

What was left of Austria became the first Republic of Austria
1945-Current

WWII ended, and Austria became the second Republic of Austria
Ad blocker interference detected!
Wikia is a free-to-use site that makes money from advertising. We have a modified experience for viewers using ad blockers

Wikia is not accessible if you've made further modifications. Remove the custom ad blocker rule(s) and the page will load as expected.