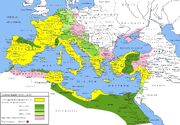 Today Part of:
Location missing. If you know the current nation this entity resides in, please add it.
Alphabetic list
Edit
A
Adogit, Aelvaeones, Aeragnaricii, Ahelmil, Alamanni or Alemanni, Ambrones, Ampsivarii or Ampsivari, Angles, Angrivarii or Angrivari, Arochi, Atuatuci, Augandzi, Avarpi, Aviones
B
Baemi, Banochaemae, Batavii or Batavi today known by Batavians, Batini, Bavarii, Bergio, Brisgavi, Brondings, Bructeri, Burgundiones, Buri
C
Calucones, Canninefates, Casuari, Caritni, Chaedini, Chaemae, Chaetuori, Chali, Chamavi, Charudes, Chasuarii, Chattuarii, Chauci, Cherusci, Chatti, Cobandi, Condrusi, Corconti, Curiones
D
Danduti, Dani, Dauciones, Diduni, Dulgubnii
E
Eburones, Eudoses, Eunixi, Evagre
F
Favonae, Fervir, Finni, Firaesi, Forsi, Franks, Frisians, Fundusi, Fischer
G
Gambrivii, Gauthigoth, Geats, Gepidae, Gutes, Grannii
H
Hallin, Harii, Harudes, Hasdingi, Helisii, Helveconae, Heruli, Hermunduri, Hilleviones, Horder
I
Ingriones, Ingvaeones (North Sea Germans), Intuergi, Irminones (Elbe Germans), Istvaeones (Rhine-Weser Germans)
J
L
Lacringi, Landi, Lemovii, Levoni, Lombards or Langobardes, Liothida, Lugii
M
Manimi, Marcomanni, Marsi, Marsaci, Marsigni, Marvingi, Mattiaci, Mixi, Mugilones
N
Naharvali, Narisci or Naristi, Nemetes, Nertereanes, Nervii, Njars, Nuitones, Norwegians
O
P
Q
R
Racatae, Racatriae, Ranii, Raumarici, Reudigni, Rugii, Rus', Ruticli
S
Sabalingi, Saxons, Scirii, Segni, Semnoni or Semnones, Sibini, Sidini, Sigulones, Silingi, Sitones, Suarini or Suardones, Suebi or Suevi, Suetidi, Suiones, Sugambri
T
Taetel, Tencteri, Teuriochaemae, Teutonoari, Teutons, Theustes, Thuringii, Toxandri, Treveri, Triboci, Tubanti, Tungri, Turcilingi, Turoni
U
Ubii, Ulmerugi, Usipetes, Usipi or Usippi
V
Vagoth, Vandals, Vangiones, Vargiones, Varini, Varisci, Vinoviloth, Viruni, Visburgi, Visigoths, Vispi
Z
Ad blocker interference detected!
Wikia is a free-to-use site that makes money from advertising. We have a modified experience for viewers using ad blockers

Wikia is not accessible if you've made further modifications. Remove the custom ad blocker rule(s) and the page will load as expected.